Making Beauty for Wounded Places
by Trebbe Johnson, Guest Writer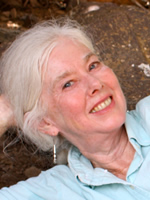 Trebbe Johnson
When the places we love and where we live are clear-cut, paved, and polluted, when animals and plants lose their habitat, people hurt, too. There is little enough support in our culture for coping with the death of people we love. There has been no meaningful way to come to terms with and heal from the loss of nature.
Radical Joy for Hard Times is a worldwide community of people dedicated to reuniting people and the places they love. Our mission is to give people the opportunity to deeply connect with natural places that have been damaged through human or natural acts. Spending time in wounded places, we expose our hearts to difficult feelings of loss and guilt; listen to the land and to one another; and open ourselves to possibilities for finding and creating beauty there.
Through this shared but highly individual path people recognize that the dark places in themselves and on the planet are still vital parts of the whole and worthy of care; offer a vision of wholeness and beauty; and confront ecological assaults with compassion, creativity, community, and even joy.
The Earth Exchange
Our signature event is the Earth Exchanges, a simple, meaningful event with four basic steps:
Go to a wounded place
Share your personal stories of what the place means to you, both before and after it was damaged
Spend time on the land getting to know it as it is
Make an act of beauty there with found materials, often an image of the Rad Joy bird
An Earth Exchange is part ceremony, part social event, part Happening, part nature walk. An Earth Exchange might consist of one person or a hundred, can be planned weeks in advance or occur on the spur of the moment, can last a week or a few minutes. All it takes it going to a damaged place, opening up to what's there now, and making some beauty of and for this place that has given so much to the people who live among it or love to visit it.
Origins
The seed of Radical Joy for Hard Times was planted in 1987 when I was writing a multi-media show about David Powless, a member of the Oneida tribe, who had won a National Science Foundation grant to develop a process of recycling steel waste. On learning the good news, David climbed triumphantly to the top of an enormous pile of waste at a steel plant, determined to conquer it. However, he said, he realized at once that an attitude of conquering was entirely wrong. "The waste is not an enemy. It is an orphan from the circle of life. My job was to bring it back to the circle of life."
Inspired by the concept of honoring the many waste places on Earth, I spent years seeking some way to put it into practice, for example by leading a ceremony at Ground Zero in New York shortly after the September 11 attacks, and organizing a week-long vigil at an old-growth clear-cut forest in British Columbia.
I founded Radical Joy for Hard Times in May 2009, and we became a non-profit organization a few months later. We are based in Thompson, Pennsylvania, with board members and supporters in many countries around the world.
Affirming Our Attachment to Place
The work of Radical Joy for Hard Times is compatible with yet different from that of other Earth activist organizations. The common aims of the environmental movement are to protect pristine nature and clean up damaged nature. Both these goals are urgent and essential. Yet we can't truly change the way we live on Earth until we acknowledge our deep emotional attachment to the places where we live and then affirm and strengthen that attachment by finding and making beauty when those places are damaged. The act of attending to a wounded place has been compared to the kind of loving, non-demanding attention we bring to a friend who is ill. Often there is nothing we can do to "heal" this friend. However, presence, mindfulness, and love are essential for as long as the relationship lasts. Similarly, Radical Joy for Hard Times aims to heal not the place itself, but the relationship between people and places.
Radical Joy for Hard Times also helps those who will inherit the Earth, members of younger generations, to develop attitudes and practices of respect, care, and creativity to help them live with the clear-cutting, pollution of water and soil and air, mining, toxic waste and other problems that they are sure to confront in the years ahead. By consciously strengthening their bond with natural places, from remote wilderness areas to neighborhood parks to urban gardens, they will be able to live mindfully in both practical and spiritual ways.
The Global Earth Exchange
Since June 2010 Radical Joy for Hard Times has sponsored an annual Global Earth Exchange, a day when people gather at wounded places around the world to find and make beauty. People have done Earth Exchanges at clear-cut forests (Washington, Ireland), polluted waters (Oregon, Vermont, Bolivia, the Gulf of Mexico), and formerly wild acres destroyed to build shopping malls (Virginia, Pennsylvania) or highways (Germany). They reflected on a disappearing glacier (Antarctica), a major port (Denmark), a sacred spring that flows down the mountains to irrigate the rice paddies of an entire island (Bali), and lands assaulted (Australia, West Virginia) or about to be assaulted (Pennsylvania, Germany) by mining. A group in Tel Aviv made beauty for patients confined to highly a sterilized hospital environment as they awaited bone marrow transplants. People have celebrated bats, turtles, honeybees, and dolphins. They've gone to coal plants, abandoned factories, and the site of the 2012 Olympics.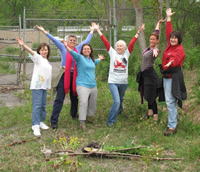 Men, women, and children drum and sing, pray, explore, dance, and make offerings. Some of the events are large, drawing up to forty people. Many are the observances of just one person. The focus of reflection is sometimes very personal (a family farmhouse in New Hampshire that recently burned to the ground), sometimes of global concern (oil spilling into the Gulf of Mexico). In 2010, the award-winning author Barry Lopez did a private event at his home in Oregon. For two years in a row, Glenn Albrecht, the Australian philosopher who coined the term solastalgia, meaning the pain one feels upon recognizing that the place one loves is under assault, has held a Global Earth Exchange.
People tell their stories or privately reflect on what these places have meant to them, both before and after they were damaged. They sit or walk silently and pay attention to what is happening in the place in the present. They discover beauty and meaning in surprising ways.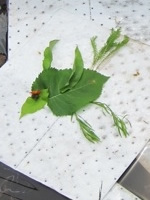 Finally they give back an act of beauty to the place. In most instances this includes making a stylized image of a bird, constructed of materials found on the place itself. This bird, singing as it flies into the Earth's damaged, beloved places, is the symbol of Radical Joy for Hard Times.
To see a slide show of past Global Earth Exchanges and learn about upcoming events, visit Radical Joy for Hard Times. To read some of the individual stories see the Earth Exchanges page.
A Global Opportunity
We citizens of this planet now have the capacity to learn about and respond in seconds to actions and ideas rising and falling around the globe. This reach and immediacy enable Radical Joy for Hard Times to maintain an active network that stretches across every continent of the Earth. Through social media those who discover and make beauty in wounded places can share their stories with one another right after or even during the event, lending inspiration to others and garnering support. The internet also enables us to track innovative actions that artists, activists, and communities around the world are doing that are compatible with RadJoy's approach. It is exciting that so many are developing creative, innovative ways of confronting and resolving the Earth's great problems.
And yet, despite the wonders of modern media, what Radical Joy for Hard Times is ultimately all about is going to wounded places and being with them. Not in meditation, not by checking them out on Google, but in person. Going there, telling stories, getting to know the place as it is, and making beauty for it. In this way we reconnect with the places we love; reaffirm the vital, intimate ways that places and people affect each other; and transform ugliness and neglect to beauty and care. And that is what really makes Radical Joy for Hard Times a pioneering path for this particular time on Earth.
Meet the Founder

Businessman and retired Congressman Berkley Bedell founded the Foundation for Alternative and Integrative Medicine in 1998. Learn more...
Gifting Opportunities
FAIM depends upon public donations to continue its work. You can help!
Giving options include: